Rarible integrates with Immutable X. Get Rewarded for Trading Gaming NFTs!
Here's what you need to know about Immutable X, the new gaming-focused L2 blockchain on Rarible — and the exclusive double $IMX rewards program.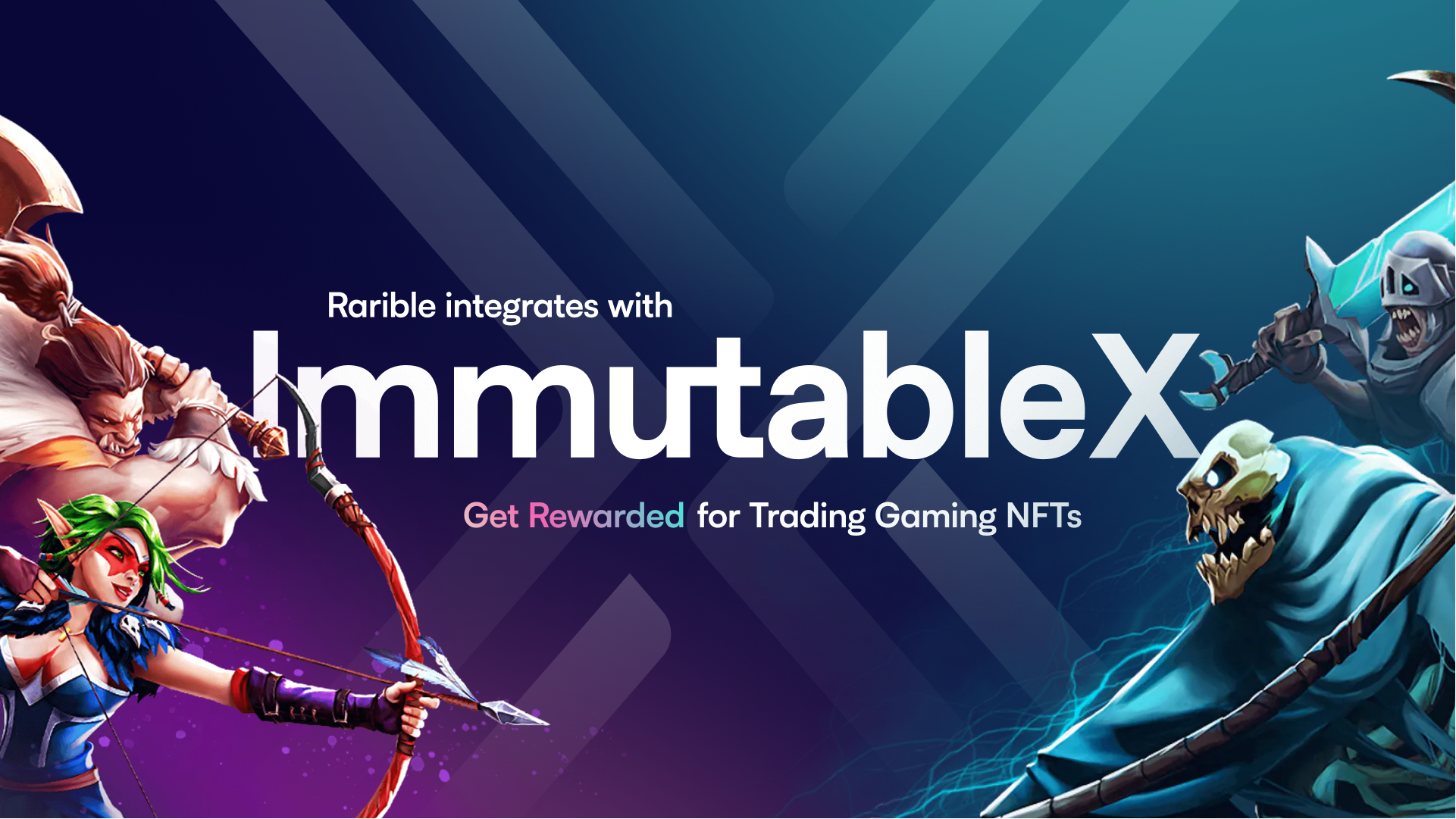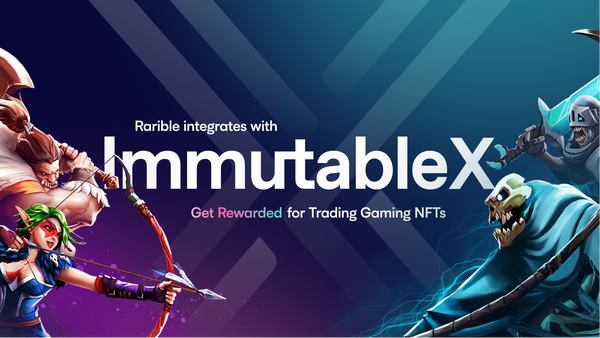 Blockchain gaming is anticipated to become the next big thing in Web3. Gamers spend billions of dollars a year on in-game items and cosmetics, but they don't truly own any of them. Significant time, money, and effort are poured into countless games without expecting any real-world value in return.
Now imagine a scenario where gamers actually own the assets they purchased or earned and these assets can be sold for real money across marketplaces, traded for other assets, or stored in a personal wallet. Gamers are being exploited and NFTs have the power to bring real ownership to players everywhere.
If that sounds exciting to you, you're not alone! But for a long time, there was an obstacle in the way of creating that future: gas fees, long transaction times, and an overall lack of infrastructure.
If you had to pay Ethereum gas fees anytime you exchanged items, collected some loot, or traded with another player, that game would be a super expensive hobby! Plus, you don't want to wait a minute for blockchain confirmation whenever you interact with an item, right?
Finally, we've found a solution that solves all those problems, and we've integrated it into our marketplace! Immutable X is a Layer-2 platform (if you don't know what that means — don't worry, we'll get into that later) tailor-made to enable NFT gaming on Ethereum!
Immutable's mission is to bring digital ownership to the masses. They believe everyone has the right to fully own their assets and they've designed a vertically-integrated gaming platform to make it possible.
But it gets even better: When you trade Immutable X NFTs on Rarible, you're eligible for Trading Rewards - Immutable's program that rewards traders with $IMX.
In even bigger news, Rarible is the first marketplace on Immutable X to be featured in their Partner Spotlight as part of their Trading Rewards program.
Since July, Immutable has been rewarding traders with up to 100,000 $IMX daily, but now users on Rarible.com will receive double $IMX rewards for their trades. That's right, all trades on Rarible will count as 2x towards your Trading Rewards eligibility. This spotlight program will be live from 12:00AM September 14 to 11:59PM September 21 (UTC time) so take advantage of this while you can!
Here's how you can earn $IMX:
Connect your Ethereum wallet to Immutable X on Rarible (just switch the network when prompted)
Buy or sell between $10 and $10,000 worth of volume in a collection with royalties on the Immutable X protocol.
Receive your tokens directly in your wallet at the end of the week!
Those are the basics. There are a few more conditions to prevent wash trading and a transparent breakdown of how rewards are calculated on Immutable X's trading rewards page.
On top of that, Rarible is offering 0% trading fees until September 20th for the occasion!
Want to know more about the new gaming-focused platform on Rarible? Here's what you need to know about Immutable X:
Say Goodbye to Gas Fees
As we said, one of the main obstacles to blockchain gaming on Ethereum are high gas fees. Before we explain how Immutable fixes this, here's why gas fees matter:
Anyone with a wallet can send any transaction to a blockchain. But because networks have finite computing power, they can't process every transaction someone wants to send. If there were no gas fees, you could prank your friend by sending them a billion NFTs making their Rarible account unusable.
That's why gas fees are useful. By creating a cost for transactions, the network receives no transaction people aren't willing to pay for. It's like paid parking garages: Because there's a cost, only the people who really need to park go there.
While these fees are useful and necessary for the network, nobody likes paying them. If people hate paying $5 for shipping, imagine how much they'd hate paying $40 to send someone an NFT.
The team behind Immutable X realized this problem—and fixed it. That's why transferring and minting NFTs on Immutable X is completely free. And transactions are instant!
If you want an in-depth explanation of how this works, here you go.
This makes it easy to mint dozens of NFTs for a big loot drop or to enable in-game trading without worrying about costs.
At this point you might be wondering how Immutable X works—it's a blockchain, but it doesn't cost gas? Here's a quick explanation:
Layer 2s and Rollups
Immutable is a layer 2 blockchain on Ethereum's layer 1. If that sounds a bit abstract, you can imagine layer 1 (Ethereum) like a highway and layer 2 (Immutable X) like a road in a town off the highway.
Immutable X specifically works with something called math I'll never understand Zero Knowledge Rollups. These make blockchain transactions more efficient by bunching them up into a bigger batch before submitting them before the blockchain. It's the same principle as doing laundry: You don't wash each shirt, sock and hoodie individually, but wait until you have enough to do a whole load.
Like with the laundry example, ZK rollups can process more transactions in less time, which makes them more efficient.
But there are more ZK rollups. What makes Immutable X special?
A blockchain purpose-built for gaming NFTs

While there are many layer 2s that rely on zero knowledge technology, only Immutable X has been created for gaming specifically.
That's because it's built by Immutable, the team behind one of the most popular blockchain games, Gods Unchained. With their experience, they were able to build an efficient platform that attracted prestigious partners. Here are a few gaming projects built on Immutable X:

That's far from the full list, however — expect more games to be announced as soon as this week!
"With the growing number of partners building on Immutable X, new projects can leverage this ecosystem by using Immutable X's global orderbook," the L2 chain's team told us. "This will enable their users to access world-class assets and not worry about liquidity."
Sounds exciting? Here's how to get started:
How to get your first Gaming NFT

Whether you have an Ethereum wallet or you're just starting out and haven't set up any wallets, getting your first IMX NFT is easy.
If you already have an Ethereum/Polygon wallet

1. Set network to "Ethereum Mainnet" on Metamask
2. Select Immutable X on https://rarible.com/connect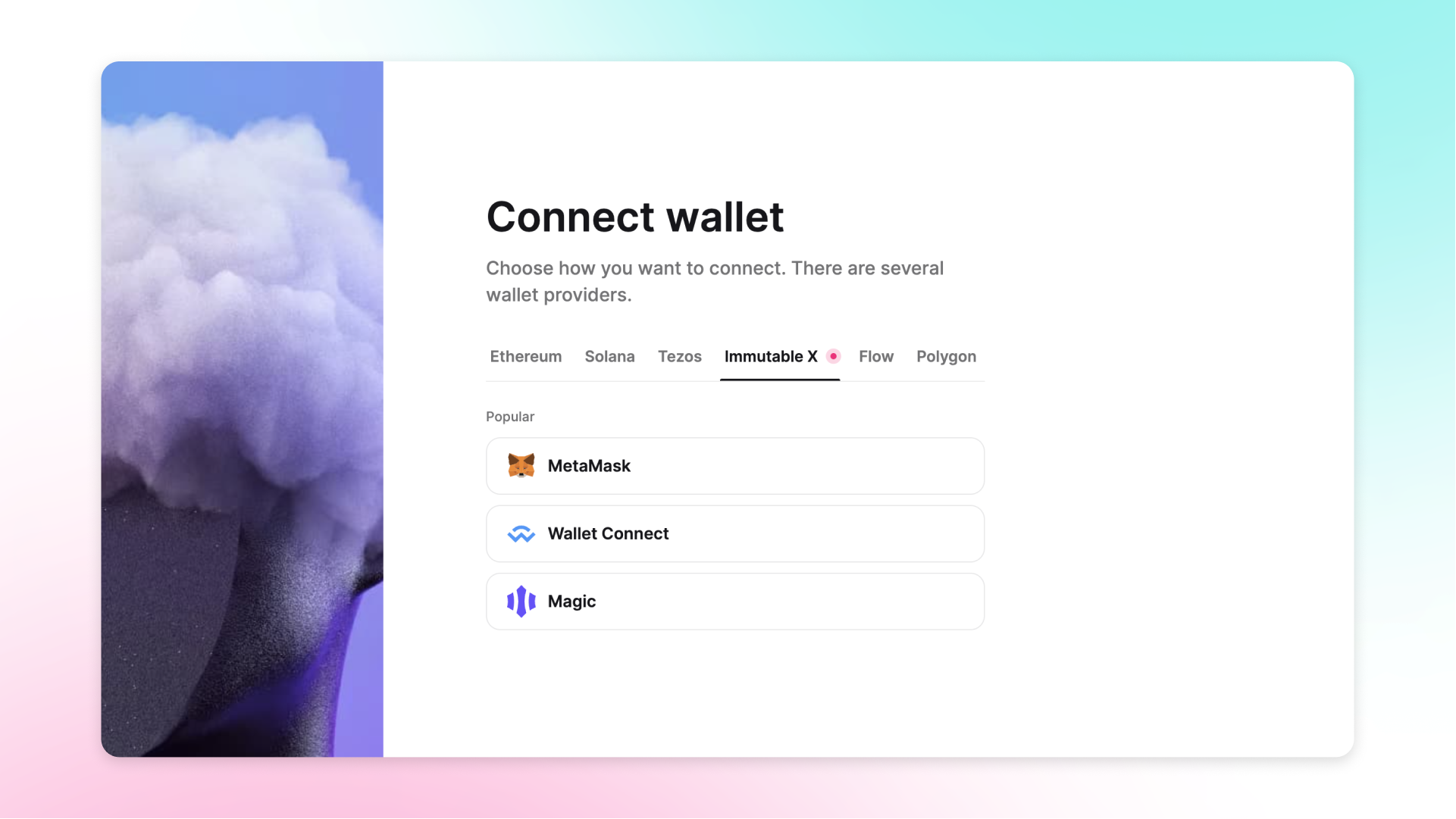 3. Register your existing Metamask on IMX by going through the flow.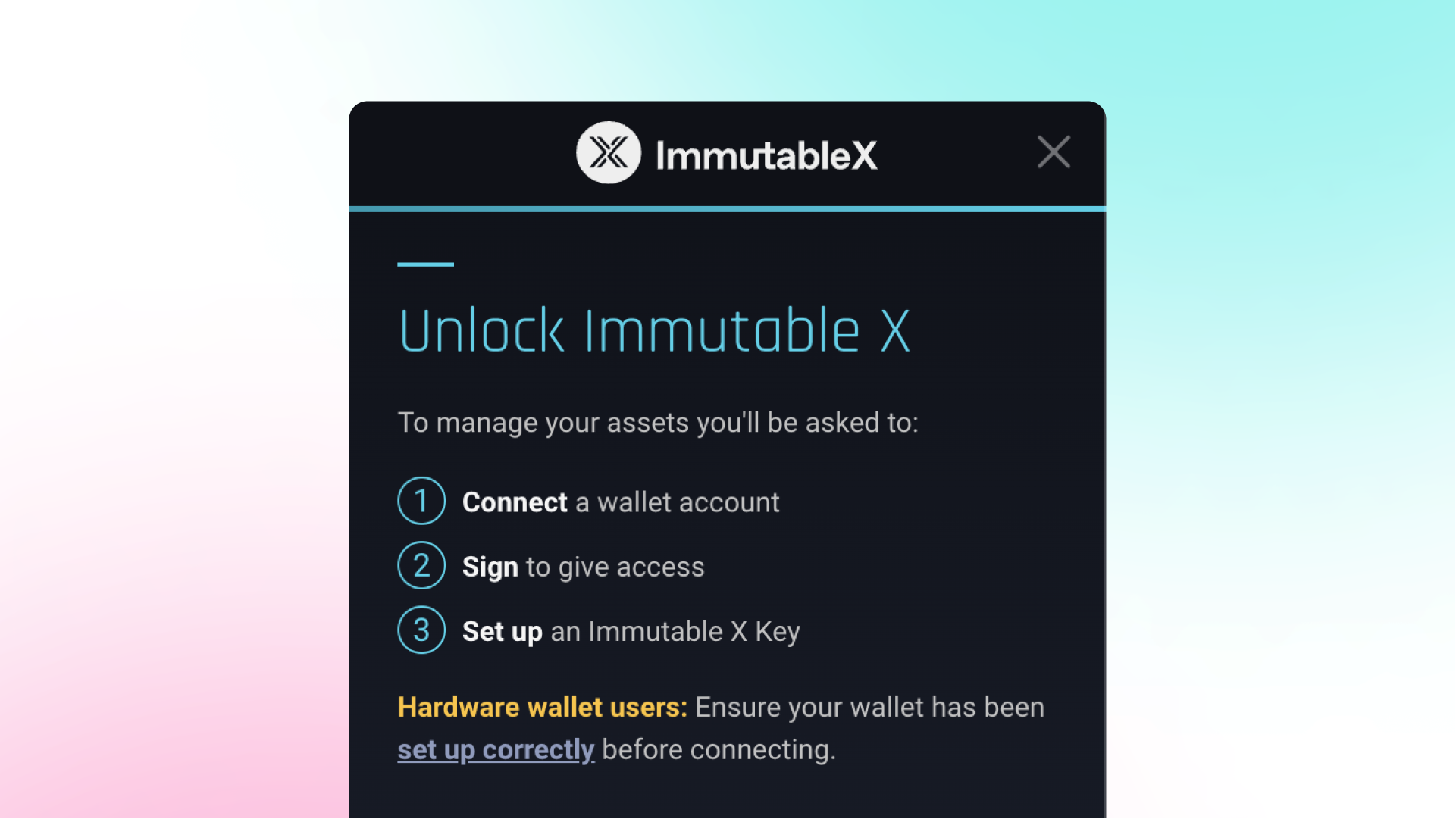 If you don't have an Ethereum wallet

If you're completely new to Web3 and find the process of setting up an Ethereum wallet challenging, don't worry — you can create a non-custodial wallet with only your email! Select Magic for this flow, and in a few simple steps you'll have a wallet that allows you to trade IMX NFTs.
Now, if you're ready to get your first gaming NFT, head over to our Immutable marketplace, find one you love and start playing!