Introducing The Rarible Protocol: An Open-Source, Cross-Chain Tool For NFT Innovation
This article is authored by Eric Arsenault, core contributor at Rarible DAO, Alex Salnikov, co-founder of Rarible.com, and additional…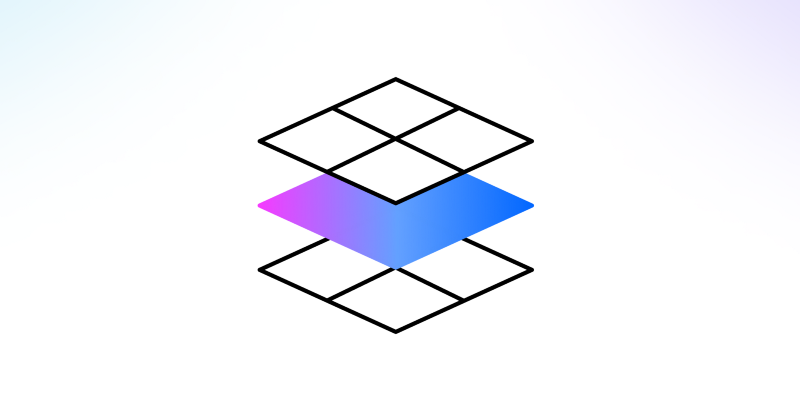 This article is authored by Eric Arsenault, core contributor at Rarible DAO, Alex Salnikov, co-founder of Rarible.com, and additional contributors within the Rarible DAO community.
Today, we are proud to announce a set of open source tools (dubbed the "Rarible Protocol") to drastically simplify the go-to-market process for NFT projects and ideas.
Creating an NFT project from the ground up is no easy feat — the Rarible.com team knows this firsthand. Getting to where we are today involved countless iterations and setbacks, as well as perseverance through two-sided marketplace challenges like bootstrapping supply and demand.
Long gone are the days where a project needed to build an entire NFT storefront or marketplace from scratch. With the protocol, developers and teams can focus on what they are good at, while also tapping into an interoperable ecosystem of projects to drive innovation as the market evolves.
Meet the Rarible Protocol
The Rarible Protocol is a set of smart contracts that can be deployed to various blockchains, as well as an open source indexer. Projects can use these tools to build consumer facing applications, while smart contract developers can build features in the protocol that benefit an entire ecosystem of projects.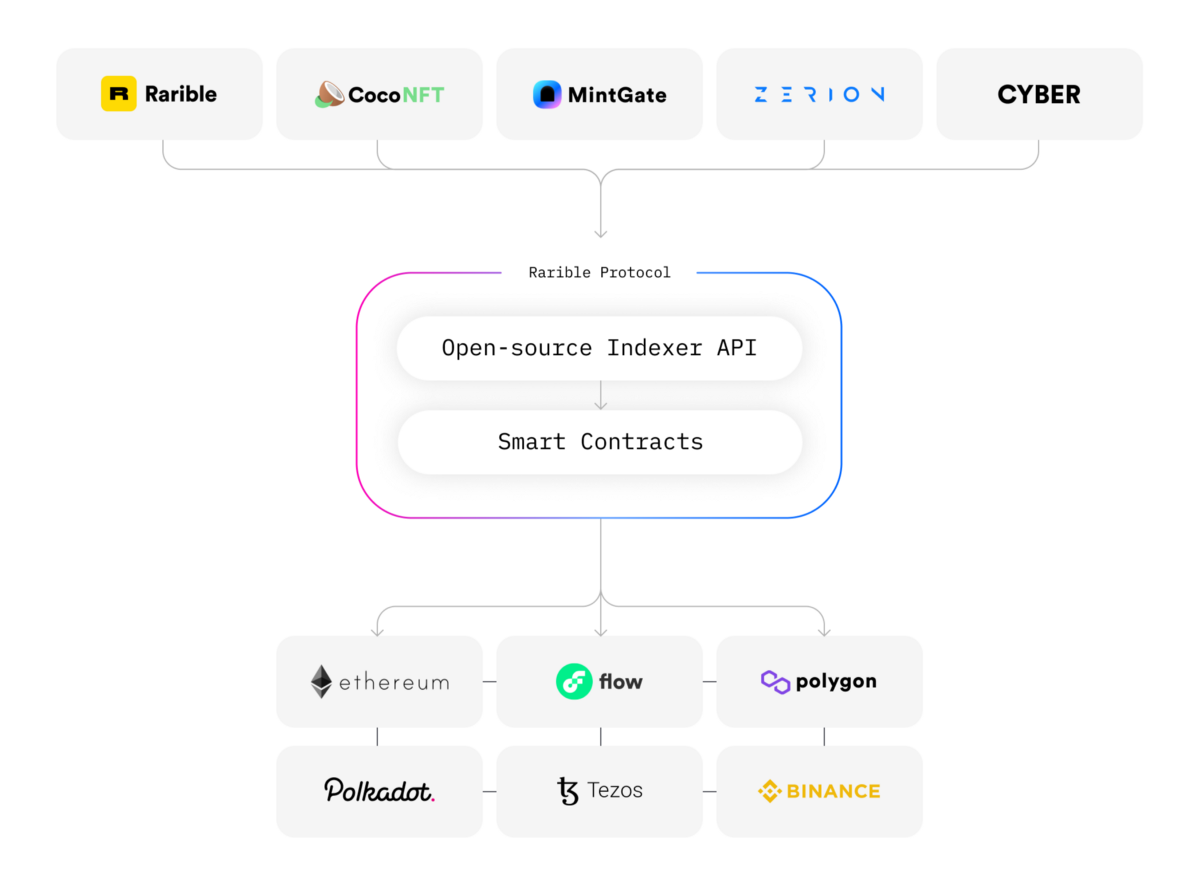 Key Features
Decentralized Exchange with Fee Splitting Capability
At the core of the Rarible Protocol is a decentralized exchange. One of the protocol's most powerful features is its ability to split fees during the exchange process, which allows for interesting use cases like the co-creation of NFTs, and the monetization of applications built on top of the protocol, or even the splitting of fees to features used within an application.
Shared Order Book and Liquidity
Applications built on the Rarible Protocol have a shared order book. The practical implications of this are that when an NFT is listed for sale, it is listed for sale across all applications built on the protocol (same goes for when bids are placed). The effect of this is powerful: every project benefits as more teams build on the protocol.
Lazy Minting of Single (ERC721) or Edition (ERC1155) NFTs
This feature enables anyone, regardless of their crypto knowledge, to easily mint an NFT without paying a transaction fee. Instead, the gas costs associated with minting are paid off to the buyer when the NFT is sold — opening up NFT minting to mainstream audiences (for eixample: the minting of a Twitch stream, a Tweet, a TikTok video, all with zero crypto onboarding).
Royalties Standard
The Rarible Protocol implements a royalty standard for protocol-minted NFTs, as well as for externally minted NFTs. This enables NFTs sold on protocol applications to adhere to creator and platform royalties regardless of their provenance (currently, if an NFT is minted on SuperRare, and sold on OpenSea, royalties are not passed along back to the original creator which is a huge barrier to creating an interoperable NFT ecosystem).
Open Source Indexer
The Rarible Protocol indexer is a completely open-source store of data for developers. It enables them to index NFTs and have access to information including metadata, orders, activity and ranking or sorting for leaderboard purposes. Notably, the Rarible Protocol is the first open-sourced indexer protocol available to developers.
Upcoming Features on the Protocol Roadmap
The protocol is currently deployed on Ethereum and will soon be available on Flow and Polygon. Looking forward, we are looking to prioritize with input from our ecosystem, including:
Improve documentation
Complete an SDK
Integrate with fiat payment solutions
Offer a search API
Move to an on-chain orderbook
Building on the Rarible Protocol
Currently, 20 diverse projects are building applications on the protocol, including Rarible.com, Reaction$, CocoNFT, DAOhaus, MintGate, Ownerfy, Cyber, Footium, NFP, Vertex, Mintdrop, Zerion, Genies, Decentraland, Rarepress, and BlockEx. Developers can build many other applications including:
Customizable NFT Storefronts
From large-scale projects like Rarible.com, to small-scale options for creators, the protocol makes the development and customization of NFT storefronts simple.
NFT Minting Apps
Because of the shared orderbook, applications on the protocol can also choose to Mint NFTs and let other applications deal with the sale and distribution of those NFTs. This eliminates some of the challenges associated with bootstrapping demand and should drastically reduce time to market for ideas.
Browsing / Discovery / Management
There are various applications that might want to use the protocol for browsing / discovery and management of NFTs, including Wallets or DAO frameworks or Multisigs for example.
Features Monetization
With the Rarible Protocol, developers can create innovative features and integrate applications on the protocol to test, validate, and monetize via fee splitting.
Data Analytics Tools
Easily create analytical solutions for NFT prices, trades and scarcity.
Building, Incubating, and Governing Together
As of today, the Rarible.com marketplace has successfully completed its migration to the Rarible Protocol.
While Rarible.com and the Rarible Protocol remain two separate entities, both share a core mission to build a community-driven and decentralized network to govern the parameters of the protocol. This will be achieved through the Rarible DAO composed of valuable members within the community, from developers to thought leaders, who hold ownership and decision-making rights.
There are two main ways the Rarible DAO offers support to projects building on our protocol:
Distribution of ~40,000 $RARI tokens per week (currently valued at ~$500K USD) at the discretion of apps built on the protocol, with allocations proportional to their app-generated sales volume for the week, scaled quadratically.
Funding for new NFT projects, ideas and features of up to $100,000 for developers building on the protocol. This funding is distributed via the approval of proposals submitted to Rarible DAO, as well as through DAO sponsored hackathons.
Where to start?
Visit rarible.org for more info and documentation
Join Rarible DAO Discord to help grow the ecosystem and explore funding opportunities
***NOTE: Rarible.com built and leverages the Rarible Protocol, but in no way does building on the Rarible Protocol result in any fees or value accruing to Rarible.com. The protocol is open source and currently zero-fee (a parameter which is set by Rarible DAO).