Rarible 2021: a Year in Review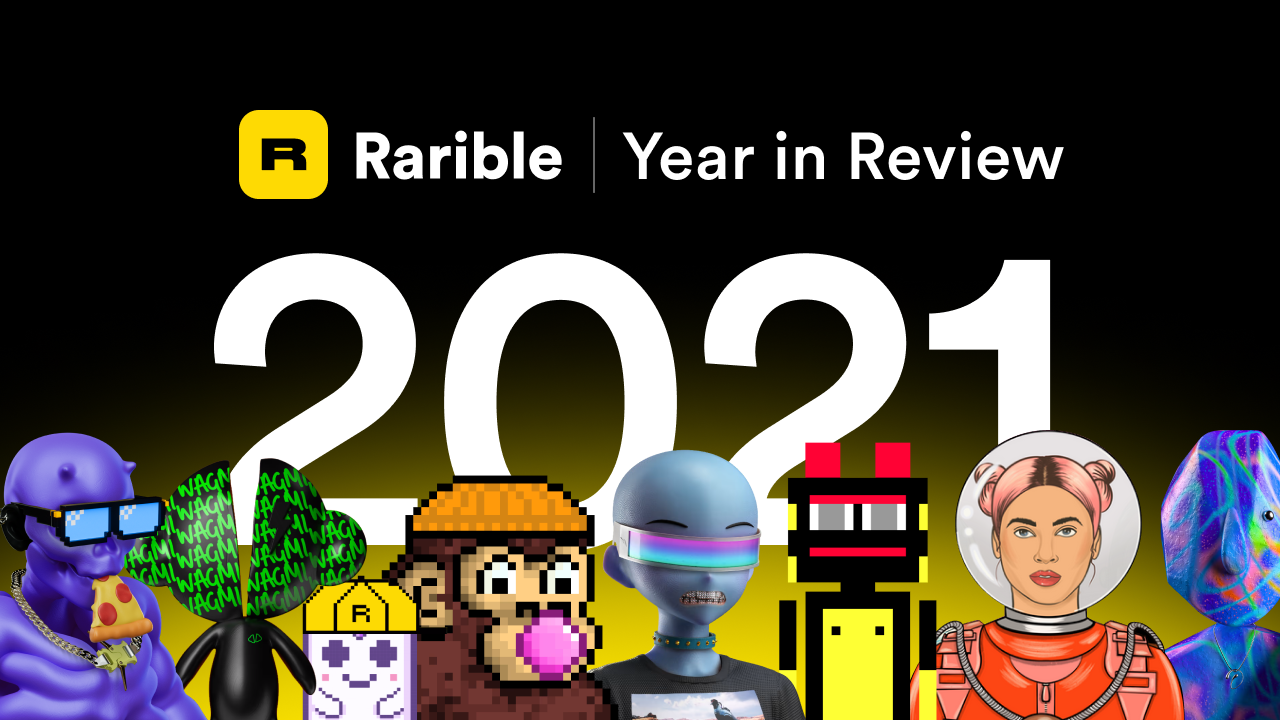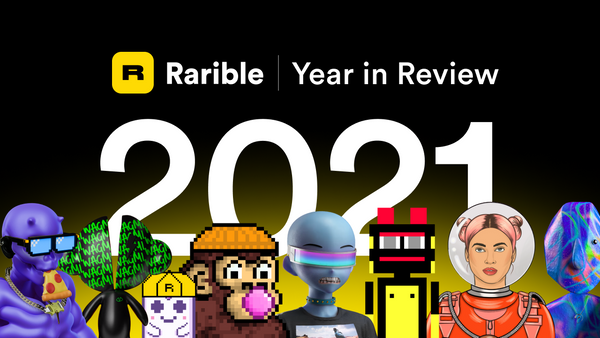 The year we went multi-chain, launched Rarible Protocol and released our mobile app, shipped the first cross-chain wallet-to-wallet  messenger and watched the NFT space make history.
2021 truly was the breakout year for NFTs. From a barely understood abbreviation (hello, right click savers!), it turned into a massive cultural phenomenon adopted by blue chip companies like Adidas and Twitter in a few short months.
Just like the NFT space has grown, so has Rarible.com. What started with a few people in a café grew into a passionate team of over 100, and counting!
And that team has been busy. In 2021, we've shipped more features than ever before, scaled to a multi-chain platform with Flow and Tezos integrations, and watched our community soar on every social media channel.
And of course, we couldn't have done it without you! You are creating Rarible day by day – by using the platform, requesting features, sharing your feedback, being as active and passionate as you are.
We're happy to be a part of the digital ownership transformation, empowering creators and communities on the way to a more sustainable, decentralized future of the web.
We're excited about the growth in 2021 and even more excited to see what's to come in 2022! As we head into the new year, we prepared a quick recap of the highlights of each month in 2021. Let's dive right in!
January 🤝
We kicked off the year by enabling creators to verify their Twitter accounts on Rarible for easier search and identification.
To further enhance the community features on Rarible.com, we also launched the personalized Following feed where you can keep track of the latest updates from the creators and collectors you follow.
February 🔥
As NFTs started to take off (a Beeple piece sold for $6.6 million at the time—it was a much bigger deal back then!), we raised a seed funding round led by CoinFund to get ready for rocket ship growth that soon followed.
March 🦄
Moving towards the vision of a fluid, interoperable, diverse NFT market, we pre-released an early version of the Rarible Protocol for the NFT Hack hackathon.
We also reached 100k followers on Twitter (the number that tripled since!).
April ⏰
Timed auctions came out, allowing users to set up minimum bid and currency
as well as starting and ending dates of the auction. You can see those ticking on our homepage.
June 🚀
As one of the first major brands to enter the space, Twitter launched their "140 Collection" with Rarible.com as the marketplace of choice.
That month, we also raised $14.2 million in Round A from Venrock Capital, CoinFund, 01 Advisors to fuel further growth.
July 😌
In the wake of an influx of new users on our platform, we streamlined our support and verification processes to protect and support our creators and collectors on every step of the way.
We also increased the file size on the platform up to 100 mb to give you more room for creativity!
August 🔨
August was a big month: in addition to UX upgrades that enabled users to filter NFTs by collection, sale type, price range and TRAITS (!), we officially released the Rarible Protocol – open source, multichain and community-governed NFT protocol and on-chain indexer that simplifies the  go-to-market process for NFT projects and ideas.
Rarible mobile app launched on iOS as a great tool for NFT browsing and discovery.
September 😍
The NFT community loves collabs! That's why we've implemented split royalties—creators who collaborate on a project can now divide secondary sale royalties.
As the interest grew, we received more and more questions on how to buy NFTs if you're entirely new to crypto. That's why we partnered with Wert to enable credit card payments for Ethereum NFTs!
We closed out the month by welcoming Aavegotchi—an play-to-earn game that runs on Polygon—back to Ethereum, accommodating hundreds of cute pixel ghosts. To date, it's made over $1 million in secondary sales.
October 🎏
Ethereum gas fees in 2021 are a whole different story. To give creators the opportunity to create NFTs without paying excessive amounts in gas fees and partly offload the network, we released lazy minting! The feature allows buyers to mint NFTs upon purchase, covering the fees.
By October, many big players started entering the NFT space. Adobe chose Rarible to partner with on the NFT attribution project aimed at protecting and verifying metadata for digital content created across key Adobe Creative Cloud.
November 🌱

The future of NFTs is multi-chain. That's why we integrated the Flow blockchain in November, making Rarible the only NFT marketplace that lets individual creators mint on Flow for near-zero gas fees!
But that's not all: we also first announced our Tezos integration (which went live soon after) and launched a carbon offset campaign with our partner Nori.
Mobile app widgets went live on iOS to let you decorate your home screen with your favorite NFTs :)

Last but not least, our first multi-chain product, Rarible Messenger, was launched, enabling you to message any wallet on Rarible.com, even if it's on a different blockchain.
December 💛

We just couldn't enter the holiday season without another major release—which is why we launched the Tezos blockchain integration! Developing further as a multi-chain platform, we are excited to give our community the opportunity to use the energy-efficient blockchain with gas fees that cost next to nothing.
Shortly after, we rolled out collection statistics so you can always check the floor price, number of holders and other useful info before aping into collectibles—or just see how well your favorite jpegs are doing.
The final ship of the year came in the midst of the festive season, as our iOS Rarible mobile app now allows you to mint NFTs right from your phone.
Around the same time, our Twitter follower count crossed the 300,000 mark—and we couldn't get a better present from our amazing community.
See you in 2022!
We're looking forward to the next year together! Join the party, if you haven't yet:
Become part of the Rarible team (we're hiring!)
                                          Happy holidays! ✨